Ladies at the Glamorganshire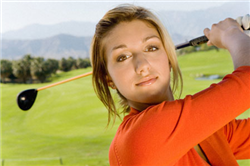 The old course which included the 6th, 7th and 8th seemed to be flooded more often than of late, and was given to the Ladies to play on. Evidence that they had been confined to the old nine-hole course comes from a 'minute' in which the Ladies requested permission to play a competition on the 'Gentlemen's links'. This was granted – indeed in July 1895 the Ladies were given permission to play over the Gentlemen's course any day except Wednesday and Saturday afternoons.

It was not until November 1894 that the Ladies Section was formed when they held a General Meeting at the Lansdowne Hotel to elect their first Ladies Captain, Mrs Maine-Tucker.

In 1906 a new local rule stated that matches containing a Lady player should give way to men except in matches and county matches. In 1907 the Ladies requested representation on the Men's Committee – this was turned down. However, in January 1950 a letter from the men's committee stated they had no objection to Ladies attending the AGM on attaining the age of 21 – somewhere along the years this lapsed!

Restrictions on Ladies' playing rights continued throughout the last century, and it is only in recent years they were granted equal standing on the course and allowed to play on Sundays without a Gentleman being present

The Club has produced three Lady Welsh Amateur Champions - Evelyn Young (who won the first Championship which was held at The Glamorganshire in 1904), Blanche Duncan (who won five times) and her sister-in-law, Margery Duncan (who won 3 times).