Professional Shop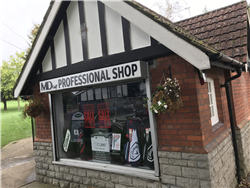 Welcome to the Professional Shop
Head PGA Professional Matthew Dearden and his staff are passionate in providing excellent customer service, first class advice, competitive prices, and a warm welcome.
PROFESSIONAL TEAM
Matthew Dearden
Rhys Pugh
Delwyn Williams
Come in! We stock the latest golf clothing trends and styles. Our collection boasts leading brands such as: Footjoy, Under Armour, Ping, Glenmuir & Sunderland. Our clothing collection is available in crested and non-crested to satisfy all needs.
TUITION & PRICES
We provide lessons to every level of golfer from first time beginners to elite players. We offer individual, group, on-course, and package lessons. We are also involved in coaching children from two local schools and our own ladies New2Golf group sessions with trial membership.
Matthew Dearden - Head PGA professional
Individual lesson £25- 30 minutes
On-Course lesson £40- per hour
6 lesson package £125
Junior lesson £15- 30 minutes
Rhys Pugh - Assistant Professional
Individual lesson £20- 30 minutes
On-Course lesson £30 per hour
6 lesson package £100
*Winter Session Package* 7 sessions £150
Junior lesson £10- 30 minutes
THE GOLF STUDIO
The Golf Studio was launched in March 2018 when Head PGA professional Matthew Dearden refurbished the professional shop separating the layout into two areas. The golf studio is equipped with the GC2 + HMT launch monitor and has the latest FSX 2018 software. It is also available for private use. You can practice on the Foresight driving range or play on one of the golf courses. 1-hour practice £10, 1-hour course play £20. This facility is invaluable to the professional team for coaching and custom fitting.
CUSTOM FITTING
Are your current clubs 'bought off the rack'? We stock the latest golf equipment from the leading brands. Brands such as: Titleist, Ping, Taylormade, and Callaway. Our philosophy is that everyone should be fitted with a set of clubs specifically for them. Why not book a bespoke custom fit session to maximise your potential, development, and enjoyment. We charge £25 for a fitting session which usually takes an hour. However, if you place an order you won't be charged a fitting fee.

RE-GRIPS & REPAIRS
Are your grips worn? We offer a wide variety of grips in all sizes to fit your hands. Brands include: Golf Pride, Lamkin, and SuperStroke. We also have specialist Putter grips for enhanced feel and performance on the greens. We also offer a club repair service.
OPENING HOURS
Summer 08:00 - 18:00
Winter 08:00 - 17:00
Contact us:
Telephone: 02920 701185 option #2
Email: ggcprofessional@yahoo.com