Dress Code and House Rules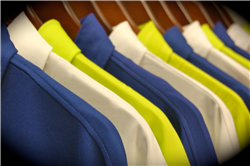 In order to save any embarrassment, all Visitors are respectfully asked to familiarise themselves with the Club's Dress Code and House Rules, and to abide by them.

Visiting Group/Society leaders are requested to ensure that all participants are aware of all of the Dress Code and House Rules.

The Glamorganshire Golf Club reserves the right to ask visitors not adhering to leave the course and / or the Clubhouse.

It is expected that the following dress code will be implemented with courtesy and common sense.
Course
Recognised and conventional golf clothing and footwear only may be worn.
Shorts should be tailored.
Socks (predominantly white) of any length may be worn
Shirts must have collars
Turtle neck style shirts are allowed
Shirts must be tucked into trousers or shorts
Dispensation for Lady Golfers
Lady golfers may wear sleeveless shirts and cropped trousers
Shirts/tops may be worn outside trousers or skirts
Clubhouse
Smart casual dress is required.
Recognised and conventional golf clothing may be worn in the Henry Howell spikes bar
Exclusions
Not Allowed - Anywhere, Anytime:
Facial jewellery (apart from earrings/ear studs
Denim clothing.
Football, Rugby type shirts or shorts with side pockets
Trouser bottoms must not be tucked into socks
Tracksuits or Trainers
Waterproofs and golf jackets are not allowed in the clubhouse
Mobile Phones
Phones may not be used or turned on in the Lounge, Henry Howell Bar or Snooker Room.
Mobiles may be used in all other areas, both inside and outside the perimeter of the clubhouse.
On the golf course - visitors are asked to switch off their mobile phones whilst on the golf course. Phones maybe used on the course only in emergencies. If any of your playing partners use a mobile phone on the course, please remind him/her of this rule.