The Stableford Scoring System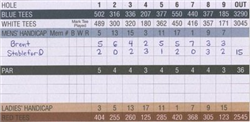 The Stableford method of golf scoring, a system now utilised and revered, particularly by amateur golfers, the world over, was first devised by a Glamorganshire Club member, Dr. Frank Barney Gorton Stableford. He first tried it out on fellow members on 30th September 1898.

As now, the system awarded one point for one over par, two for a par and three for a birdie. The stroke index system having yet to be invented, one third of the player's handicap was added at the end.

Stableford himself did not actually participate in his initial experiment though he donated a special prize to the winner, Mr W Hastings Watson, who scored a remarkable forty two points.

There is no indication of what the members thought about the alternative of scoring by points or, indeed, whether they tried it out on any other occasions.

There is a portrait of Dr Stableford in the Clubhouse.

Dr Stableford, who was a resident of Whitchurch, Cardiff at the time, left Glamorganshire Golf Club when he set off to serve as an Army Surgeon in the Boer War.

On his return to Wales from South Africa he re-joined Porthcawl Golf Club as he had originally joined there in 1895. In 1907 he won the (now) Royal Porthcawl Championship and in the same year reached the semi -final of the Welsh Amateur Championship.

It was to be 31 years before he decided to try his system again. By then he was a member at Wallasey Golf Club on the Wirral. This time three quarters of the player's handicap was added to his score but it wasn't until the system was allied hole by hole to the stroke index that it took off to become the world's most popular scoring system.

"I doubt whether any single man did more to increase the pleasure of the more humble club golfer" (Henry Longhurst)

A curious footnote: Dr Stableford won the Club Cup at The Glamorganshire in 1898 and 1899. It was wondered if this was the only item of silverware in the golfing world that bears his name? Well, we have since discovered that he won Porthcawl's Club Championship in 1907 and his name is inscribed on The Fletcher Cup for this accomplishment. He also won their 'Severn Brigade Shield' in 1909 and again his name is inscribed on a silver shield on the trophy.

Finally, on 30 September 1904 (when he had returned to the UK from South Africa for a short stay) Dr Stableford played at The Glamorganshire in their Autumn Meeting. He won the Bogey competition and I have recently learnt that he was presented with a silver cup with his name and competition inscribed. That cup is in the possession of his grandson's widow in the Isle of Wight.