The Club's Role in Wartime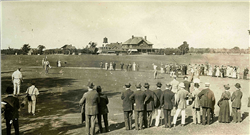 During the Second World War, the Club was required to assist with the war effort. Food crops had to be grown on a small section of the course and the 17th fairway was taken over by the Army. (A Committee minute dated October 13, 1943 noted that "Potato crop of 23 tons 16cwt sold at £5 per ton").

Soldiers were billeted in a line of huts up towards the 16th green. All serving Officers were made honorary Club members. The 17th fairway was released back to the Club in 1952. (A few years ago the Club received a letter the writer of which enclosed a copy of his birth certificate. This showed place of birth as "17th Fairway, The Glamorganshire Golf Club"!).

The course was also the location for an experimental rocket battery as part of the town's air defences. The battery was manned by 50 soldiers from the Royal Artillery who were billeted in the small 'village' of Nissen huts built in the Club's grounds.

Unannounced practice firings of the rocket battery frequently caused concern and alarm amongst local residents. Several public air raid shelters, for Lower Penarth residents and workers at the Cement Factory, were constructed in the Club grounds and on the land that now forms part of Cosmeston Country Park.