Local Rules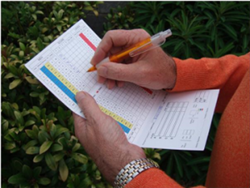 1. OUT OF BOUNDS – All hedges and fences surrounding the course are boundaries.
i) A ball is out of bounds if lying beyond the course boundary or any part of the course marked by white stakes or a white line.
ii) All paths and gardens in front of the Clubhouse and Professional Shop are out of bounds.

2. FIXED SPRINKLER HEADS – All fixed sprinkler heads are immovable obstructions and relief from interference by them may be obtained under Rule 24-2.

3. STONES IN BUNKERS – Stones in bunkers are movable obstructions Rule 24-1 applies.

4. PROTECTION OF YOUNG TREES – Staked and yellow tagged trees. If such a tree interferes with a player's stance or the area of his/her intended swing, the ball must be lifted, without penalty, and dropped in accordance with the procedure prescribed in Rule 24-2b (1) (immovable obstruction). The ball may be cleaned when so lifted.

5. WATER HAZARDS – which are marked with yellow stakes or are unmarked, are Water Hazards. Red stakes denote Lateral Water Hazards.

6. IMMOVABLE OBSTRUCTIONS
i) All bridges are immovable obstructions. Rule 24-2 applies. A ball resting on a bridge is deemed to be in the hazard. (Rule 13-4 applies).
ii) All embedded stones, bricks or concrete are immovable obstructions. Rule 24.2 applies.

7. REFRESHMENT BREAK – At the Chalet Hut situated at the rear of the 8th green, during competitions specified by the Committee, shall not constitute a discontinuance of play as defined in the Rules of Golf and shall not, therefore, attract penalty.


CHANGE TO LOCAL RULES

Please note that Local Rule No 6 on the back of the scorecard has been re-written for clarity.
"A ball resting on that part of a bridge within the margins of the hazard is in the hazard. The player may ground his club.
That part of the bridge outside the margins of the hazard is an immovable Obstruction. Rule 24-2 applies
Penalty for breach of Local Rule: Match play- Loss of hole: Stroke play - two strokes"
_____________________________
This amended rule clarifies the position where the ball might end up on the bridge when playing the 6th or 8th holes.
You are allowed to ground your club on the bridge when that part of the bridge is within the boundary of the hazard.

Temporary Local Rules
Roped off Areas

When extremely wet areas on the course have been roped off, these should be treated as "Ground Under Repair" and relief must be taken in accordance with Rule 25-1.

Please do not play from these areas – retrieve your ball and proceed as above.

Rakes

Members are reminded that Rakes should be left INSIDE bunkers.

Newly Planted Trees

If one of the newly-planted trees between the 12th and 13th fairways interferes with a player's stance or the area of his/her intended swing, the ball must be lifted without penalty and dropped in accordance with Rule 24-2b(1). The ball may be cleaned when so lifted.
Until further notice, seeded areas on the course must be treated as 'Ground Under Repair' and relief taken in accordance with Rule 25-1

Note:- Tree stumps are fixed natural objects and the ball must be played as it lies or deem the ball unplayable – Rule 28 applies.

Aeration Holes

"Through the green, a ball that comes to rest in or an aeration hole may be lifted, without penalty, cleaned and dropped, as near as possible to the spot where it lay but not nearer the hole. The ball when dropped must first strike a part of the course through the green.
On the putting green, a ball that comes to rest in or on an aeration hole may be placed at the nearest spot not nearer the hole that avoids the situation"